Dustbunnie Facts | Hovey Home Page | Crochet Page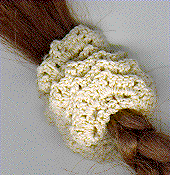 The End of the Braid Scrunchie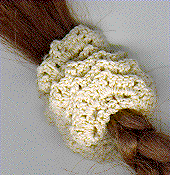 I designed this pattern for the end of a braid; thus it only has three rnds to facilitate the multiple twists it will need. Yes, this is my hair, it is long enough to scan and work the computer at the same time.
Materials:
1 hair binder (such as Goody, Wilhold, or similar, 2" wide)
Size 10 Crochet cotton (small amount)
Size 6 steel hook
Darning needle
Instructions:
Pattern is worked in Rounds, do not join unless specified
Base: Sc around entire length of hair binder, make sure you fill it as full as possible with out over stretching the binder.
Row 1: Work (sc, ch1) in each sc around
Row 2: (ch3, sc) in each ch-1 sp, join with sl st to base of first ch-3
Row 3: sl st in first ch-3 sp, ch 3, (dc, ch 2, 2 dc) in same sp, (2 dc, ch2, 2dc) in each ch-3 sp around, join to top of ch-3 of first cluster. Fasten off.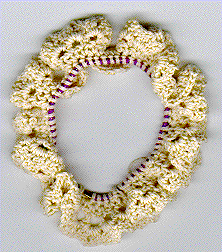 Use darning needle to work in ends of thread. Hint: Lay the tail at the beginning of the work along the edge of the binder and work over both it and the binder, this will save you having to sew it in later.
This scrunchie was tested for four twists; the layers will need unfurling afterwards. This is a washable project on warm or cold water if placed inside a Lingerie Bag.
Ó Copyright 1997 Margaret Hovey