Dustbunnie Facts Hovey Home Page Crochet Page
Special Stitches
This page will hold images of most of the special stitches a person needs to finish my patterns. Note, I am not a good drawer so most are scans of actual works.
This strap uses a shell stitch, notice that the shells are worked in the center of each other, working around the gap of the shell below.

---
This adornment on top of the jumper has been modified in that two stitches are used instead of one to complete the stitch.
......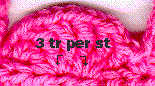 ---
On the Jumper, the Back Bib is attached 2 stitches to the right of the back seam line. Please mark where the chain is joined as this marks the top of the back seam.
......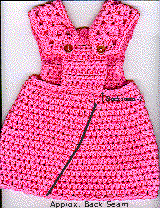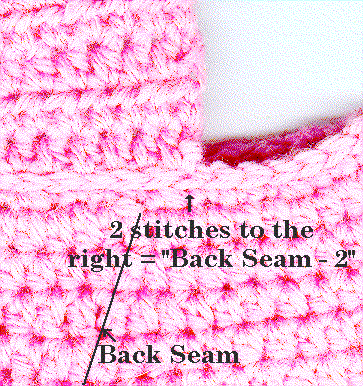 ---
H
Decreases (Dec)
These are very easy actually. Often stated " <insert st> next 2 sts tog", it basically means work the first stitch until it leaves 2 loops on the hook, then do the same for the second st until 3 loops are left on the hook, then YO and draw through all loops on the hook.
Here is a sc dec ..... ..... ..... ...... dc dec ..... ..... ..... ..... hdc dec .... ... .... ... tr dec